In spirit of the Chautauqua movement, the Department of Worship and Religious Life at the Bay View Association annually brings preachers and speakers to Bay View who represent various points of view. During a Chautauqua season, participants should expect to have their spirits, minds and bodies stretch in all aspects of life.
Lecture Series: Our preachers and lecturers preach at the Sunday worship service, 10:45 a.m.-noon in Hall Auditorium. They then lecture at 10 a.m. Monday-Thursday at the Religion and Life Forum in Voorhies Hall.
In addition to our worship services, we offer Sunday morning eucharist and Sunday School classes for all ages, with child care available from 8:30 a.m. until 12:30 p.m. During the week there are Bible Studies for men, women and youth; and occasional retreats and special events. Bay View also has an active Stephen Ministry program. As part of a focus on outreach, the annual CROP walk is held in collaboration with other area congregations.
Bay View extends an open invitation to all, whether they be casual visitors or year-round residents, to attend our many and varied worship events.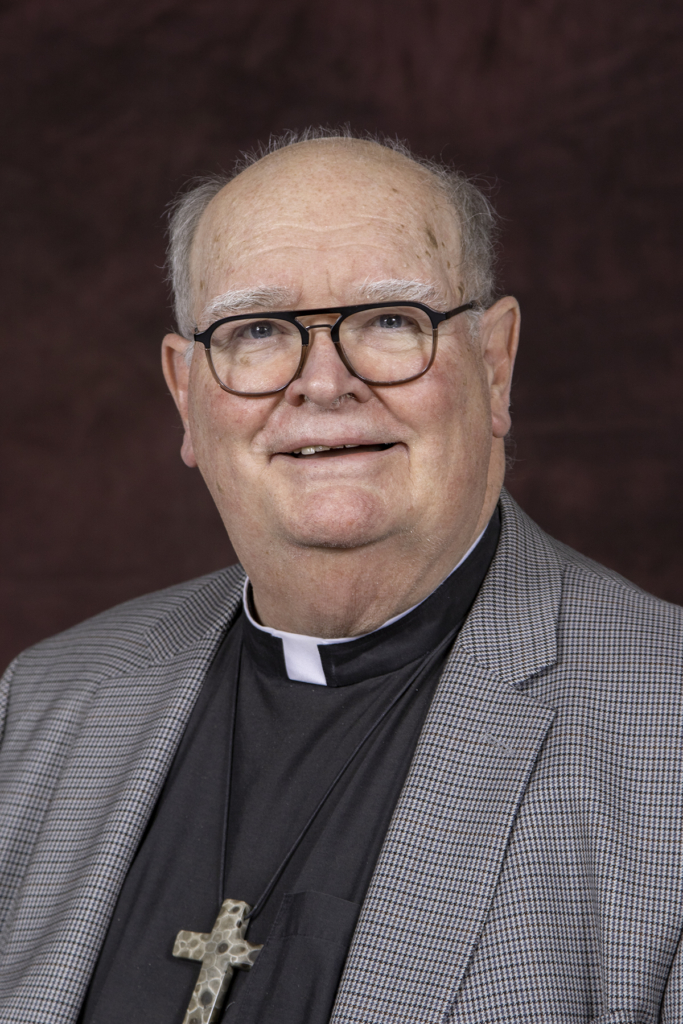 The Rev. Daniel T. Moser
Director of Worship and Religious Activities
51 Winchester Drive, Quakertown, PA 18951
(231) 348-3805 (cottage)
worship@bayviewassociation.org
The Rev. Daniel T. Moser is a graduate of Franklin and Marshall College in Lancaster, Pa. He holds graduate degrees from The Divinity School of The University of Chicago and Princeton Theological Seminary. An ordained minister in the UCC, the Rev. Moser has been involved in outdoor and retreat ministries throughout his 37 years as a pastor in Pennsylvania. He is co-founder of Sabbath Time Ministries, providing Sabbath rest and renewal for pastors and congregations. He and his wife, Margaret, an elementary school teacher, have a daughter, a son and five grandchildren.
Holy Communion is held every Sunday at 9 a.m. during the Summer Assembly Season.
The Coordinator of Bay View Youth Ministry is Bay View member Marcia-Anne Beard Dunbar, assisted by her husband, the Rev. Earl Dunbar. Earl is a minister in the Evangelical Covenant Church. Marcia-Anne is delighted to find another way to use her religion/psychology degree as well as her teaching certificate. Earl is glad to have another opportunity to use his Christian Education major from seminary. Marcia-Anne and Earl currently live in New Hampshire, where Marcia-Anne homeschools their two sons, Jonathan and James. In the summer, they enjoy living in Bay View. She is very pleased to be given the opportunity to coordinate youth ministries at Bay View.
Children's Sunday School (under 11) meets in Hitchcock Hall.
Youth ages 11 to 12 also meet on the top floor of Hitchcock. Middle Youth, ages 13-15 meet downstairs in Evelyn Hall.
Leader's In Training may choose this class or join the Leaders in Sunday School. Older Youth, ages 16+, and Young Adults are welcome to join one of the Adult Sunday School classes available.
A "20-Something" Bible Study is held on Tuesdays at 5:30 p.m. at Crist Hall. Anyone of that age group is invited to drop in.
Youth Group (ages 11-15) meets each Wednesday at Hitchcock Hall at 6 p.m.
True North- Leader Christian Fellowship meets Sundays at 6 p.m. at the Boys and Girls Clubhouse.
Each group will also be doing a service project in the Petoskey/Harbor community during the season.
Christian Fellowship Class
BILL HAUSCHILD AND STEPHANY CLOTHIER
The Christian Fellowship Class is facilitated by Bill Hauschild and Stephany Clothier. This class meets in Voorhies Hall on Sunday mornings at 9:30 a.m. The coffee and fellowship are free. Participants view videos of some of the top speakers and leaders in the ministry field. Each week is a stand-alone class, and all are welcome to attend at any point during the summer. The talks which last 30-40 minutes are followed by facilitated group discussion and application. Come ready to learn and grow in your spiritual walk! We hope to see you there!
Windows on the Biblical World
THE REV. DR. JACK GIGUERE
Jack is pastor emeritus of the Grosse Pointe United Methodist Church, Grosse Pointe, Michigan. He holds bachelor's, master's and doctoral degrees, and is a former district superintendent of The United Methodist Church's Ann Arbor District. For five years, Jack was the Protestant Chaplain on Holland America Line's four month World Cruise. The class he taught on the ship attracted many of differing faiths as well as those of no faith. Windows on the Biblical World meets Sundays at 9:30 a.m. in the Campus Club. Each session will stand alone to accommodate first time attendants as well as class regulars.