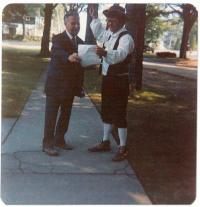 The idea of having a weekly newsletter was founded in 1976. Rev. Wesley Hager was President of Bay View. He asked Rev. Bill Perkins if he would dress and act as a Town Crier of Old English Days. Costumed from the theatre department, Bill walked the streets of Bay View ringing his bell and calling "The Town Crier is here." The photo on the left shows Wes and Bill looking at the first edition of the Town Crier, which has become an important way of keeping our members informed of activities and important information.
Bay View Member, Carol Perkins
The deadline for all content is Friday, a week prior to each issue's publication, by 5:00 p.m. Bay View reserves the right to edit submissions for content or space. Contact towncrier@bayviewassociation.org for more information.