REGISTRATION
Bay View Youth Theatre is back in 2023 with NEWSIES JR! Registration day will be June 26, 2023, which will include a parent meeting and a Getting-to-Know-You rehearsal. The non-member registration fee is $120 and the member fee is $105. We accept cash, check, or credit card. The registration fee must be paid before the participant can attend rehearsal. All children ages 7-14 are welcome to join our cast. The last day to register is July 7.
AUDITIONS PREPARATION
If you would like to hear the music or read the script, please follow this link. The script is under the banner, "Read the Libretto for Free." Under "Audition Central" you can find the list of characters as well as the materials for auditions. If the auditionee would like a specific role, please sing one minute of that character's song from the show and read the selected material from the script. Please memorize the song. The script material does not need to be memorized. If they would just like to be in the ensemble, they can sing any song that they like and tell a joke.
Here are the three things I am looking for:
The ability to speak loudly and clearly

An understanding of the story

Expression of emotion in the body and in the voice. Show me the character and what they are thinking and feeling!

For the first time, we will be accepting video auditions for those who will not be able to attend on audition day starting June 14. All videos and registration forms must be submitted before June 28. Please upload the audition as a private YouTube link emailed to youththeater@bayviewassociation.org. The cast list will be posted Thursday, June 29th at Voorhies Hall. To be considered for a speaking role, participants who submitted a video audition must be in attendance at rehearsal starting July 5. Ensemble roles do not have to submit video auditions.
COSTUMES
We do our best to pull our cast's costumes from our costume shop, but our stock of child-sized clothes is limited. As you are planning your packing for your stay in Bay View, please be sure to bring brown/black trousers, black/brown dress shoes or boots, and a white or cream button-down shirt. If you come across child-sized vests or suspenders, please consider bringing one for your child or donating to the Bay View Youth Theater. Every Newsie will need these items!
CREW
From set and costume design, to stage management and board operation, all middle and high school students are eligible to build leadership and theater craft skills by joining our production teams. These schedules differ based on position and offer a variety of flexibility for those with a busy summer ahead. These positions do qualify for community service hours. Crew members do not have to register on Registration Day.
If you have any questions, please email director Katie Joachim at youththeater@bayviewassociation.org.
You can find summer 2023's youth theater schedule here.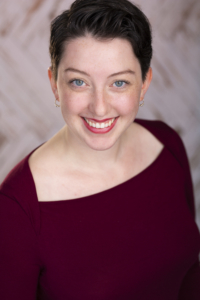 Katie Joachim is a long-time cottager in Bay View and is excited to be returning once again to direct the Bay View Youth Theater. During the winter she works as a stitcher and dresser with the Louisville Ballet and the Kentucky Opera, and she teaches drama clubs in the local schools with Drama by George. She also has worked as an Artist Educator with Kentucky Shakespeare and is currently a member of Ring of Keys. She graduated from Hope College in 2020 with a BA in Theatre and Creative Writing. Notable roles include Maria Ranier in The Sound of Music (Bay View Music Festival), The Baker's Wife in Into the Woods (Hope College), and Beatrice/Claudio/Dogberry/Borachio/Friar Francis in Two-Actor Much Ado About Nothing (Kentucky Shakespeare).