American Experience Week 2023
July 10 – 14, 2023  —  10 a.m. in Voorhies Hall

July 11 & 13  —  4 – 5 p.m. in the Large Tent
This summer, Bay View welcomes Dr. Marcia Chatelain for a week of American Experience lectures and tent discussions based on her Pulitzer Prize winning book Franchise: The Golden Arches in Black America (Liveright Publishers: 2020).   The American Experience lectures will be held the week of July 10-14, with morning lectures in Voorhies Hall (10-11 a.m.), and informal tent conversations on Tuesday and Thursday afternoons (July 11 and 13, 4-5 pm).
Fast-food outlets are ubiquitous in the United States, with McDonald's the most ubiquitous of all.  They offer reliably standardized and affordable meals.  In the wake of mid-century civil rights struggles, they offered welcoming spaces to populations that traditionally had been excluded from "whites only" restaurants  The expansion of McDonalds franchises in Black neighborhoods in the 1960s and 1970s represented one of the big successes of initiatives to grow Black capitalism, and local outlets were important nodes for civil rights organizing – but many of these gains only came after tough struggles.  Most of the jobs they offered were entry-level jobs with no career growth opportunities; much of the wealth they generate goes outside the neighborhoods in which they are located.  
So, how should we understand this most iconic of American brands, and how the wider fast-food industry relates to today's crucial social, economic, and health challenges?  Dr. Chatelain will guide us through an examination of this mixed legacy.   Dr. Chatelain, a native of Chicago, Illinois, is just moving from Georgetown University to be Penn Presidential Compact Professor of Africana Studies at the University of Pennsylvania.  She also notes in her book that she was a frequent McDonald's customer well through her graduate school days, and that "the chocolate-banana birthday cake offered at the McDonald's on Western Avenue in Chicago's Rogers Park is my favorite of all time".   
We look forward to a week of stimulating conversations with another of the country's leading historians.
Here lecture topics for the week will be: 
Franchise: The Golden Arches in Black America, book talk
From Beloved Community to Black Capitalism: Can the Market Intervene on Racial Justice Issues?
Drive Thru America: How the Nation's Fast Food Frenzy Impacts All of Us.
Seen, But Not Heard: The Untold Stories of the Women of the March on Washington.
The Great Plaintiffs: The Civil Rights Activists who took their Fight to the Courts.
Please join us for a searching but sympathetic consideration of this topic, as Dr. Chatelain helps us understand how "fast food is about more than just food".
PROFESSOR WENONA SINGEL AND PROFESSOR MATTHEW FLETCHER
August 3, 2023 — 7:30 p.m. in Voorhies Hall

August 4, 2023 — 10 a.m. in Voorhies Hall & 1 p.m. in the Large Tent

Native American Experience in Northern Michigan – Past, Present, and Future
Wenona Singel – Professor of Law and Director of the Indigenous Law & Policy Center at Michigan State University and an enrolled member of the Little Traverse Bay Band of Odawa Indians.
Matthew Fletcher – Professor of Law at the University of Michigan Law School, a leading scholar in the field of Indian Law and history and a member of the Grand Traverse Band of Ottawa and Chippewa Indians.
Admission to all events is free, thanks to a generous anonymous donor.
Wenona Singel and Matthew Fletcher combine a scholars' discipline and perspective with personal family histories. They will offer an intergenerational perspective on the Anishinaabe history and experience in Northern Michigan. Their families had experience with forcible removal in 1840, the escape to northern Michigan, and the failure to implement promises of the treaties of 1836 and 1855. They will tell of the challenges faced by the Odawa as they sought to hold onto their lands and resources, including the Burt Lake Burnout of 1900, the experience of Indian boarding schools at Holy Childhood and Mount Pleasant, and the mid- to late- 20th century experience of the wholesale removal of Indian children from their homes and communities and their adoptive placement with white families. Fletcher says, "Most of my relatives who are Native Americans grew up in poverty and struggled mightily. A number of them, who were taken from their homes by state and child welfare systems and adopted out into non-Indian homes, were lost forever.
Importantly, they will tell us about Anishinaabe perspectives on what healing and justice ought to entail. 
The U.S. Supreme Court Indian Child Welfare/Tribal Sovereignty case, Brackeen, should be decided by late June and it could potentially upend 200 years of U.S. Indian Law. Whatever the outcome, the case will have deep significance for all of us in the U.S.A.
Bridges: Crossing Cultural Divides 2023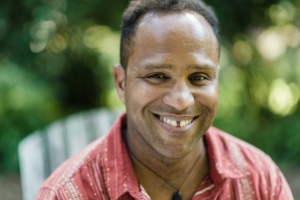 July 27, 2023
7pm in Voorhies Hall

Outdoor Magazine named James Edward Mills's book The Adventure Gap: Changing the Face of the Outdoors one of the 10 outdoor books that shaped the last decade. Sierra Club Vice President Spencer Black called it "an important new book about a crucial challenge facing the conservation movement."
The challenge, Mills explains, is that while the nation's wild places—national and state parks, forests, preserves, and wilderness areas—belong to all Americans, not all of us use and value these resources equally. Minority populations are much less likely to seek recreation, adventure, and solace in our wilderness spaces. As our country grows increasingly multicultural, who then, will become the stewards of our natural legacy?
James Edward Mills is a freelance journalist and independent media producer based in Madison, Wisconsin. Mills has worked in the outdoor industry since 1989 as a guide, outfitter, independent sales representative, writer, and photographer. The co-writer/co-producer of the documentary film "An American Ascent," Mills is a 2014 Fellow of the Mountain & Wilderness Writing Program of the Banff Centre in Alberta, Canada and the 2016 recipient of the Paul K. Petzoldt Award for Environmental Education.