July 8 – August 15, 2022
Overview
We strive to provide the most unique collegiate chamber music experience in the country, featuring a 2:1 student-faculty ratio, a focus on brass quintet repertoire, and an opportunity to develop your musical leadership skills.
Do you love to perform chamber music at a high level? Do you want to propel your musical skills towards a professional career? Do you hunger for inside information about forming and running a brass quintet?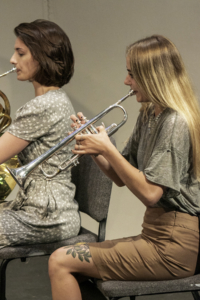 The Spectrum Brass Seminar at the Bay View Music Festival will provide all of that and much more! Located in one of North America's most spectacular settings, the Spectrum Seminar provides unparalleled opportunities to learn, perform, and collaborate while soaking in the sandy beaches and historical beauty of Northern Michigan.
This exciting collaboration pairs the groundbreaking Spectrum Brass with the oldest music festival in the United States. The Bay View Music Festival is part of a Chautauqua community and features a variety of professional and student performances throughout the summer in addition to classes, lessons, coaching, and much more.
A Typical Day in an Atypical Place
The Bay View environment mirrors life as a professional freelance musician, offering a balance of coaching, rehearsal, practice, and free time. As an example, a typical day might look like this:
Private lesson
Quintet rehearsal
Class on resume development
Lunch
Quintet coaching with faculty
Break – go to the beach
Chamber brass rehearsal
Dinner
Opera pit orchestra rehearsal
Free time
CONTACT US
For general questions about the program, please contact Artistic Director Chris Ludwa at (231) 225-8877 or chris@bayviewassociation.org. If you have specific questions about this seminar, please contact Brian Buerkle at brianbuerkle.sbq@gmail.com.